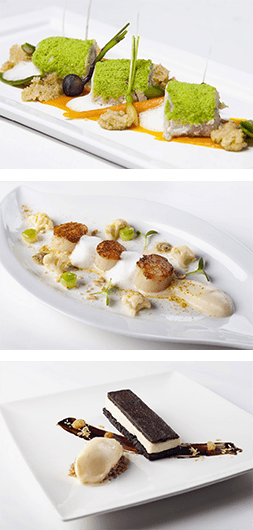 Restaurante Bon Bon is where Nuno Diogo found his destiny. The restaurant has received a Michelin Star for it's high quality standards.
Presenting modern cuisine with new culinary ideas, creativity and the highest quality ingredients, makes this restaurant one of the top rated restaurants in the Algarve.
Restaurante Bon Bon has a magnificent panoramic view from the terrace where you can enjoy dining in a calm and relaxing environment.
A huge fireplace in the center of the restaurant ensures a comfortable and intimate atmosphere in the winter and the wine list features some of the best wines that Portugal has to offer.
This outstanding restaurant is located near the Gramacho & Pinta golf courses.
Information
---
Open for dinner Thursday to Monday (18:30 – 22:30)
Open for lunch on Saturday, Sunday and Monday (12:00 – 14:00)
Closed on Tuesday and Wednesday
Reservations: Recommended
Address
---
Urb. Cabeco de Pias
Carvoeiro 8400-525
Contact
---
Go to Bon Bon's website for more information.